Folding Doors - Fair dinkum 100% Aussie made and owned!
Our products are most commonly known as Folding Doors, Bifold Doors, Sliding Doors, Concertina Doors and Room Dividers. We offer a selection of Vinylcloth, Timberline and Timberline Acoustic Accordion Doors to suit your style, needs and budget.
Australian-made European Laundry Doors
If you're looking for a folding door with a clean, modern look for your interior design, our range of European Laundry Doors offer a quality finish with exceptional space-saving benefits.
Folding Doors is the leading supplier of stylish European Laundry Doors that provide flexible use of space to suit your needs and budget. Perfect for offices, schools, laundry area, laundry room, clubs and any residential or commercial project.
Whether you're a builder, contractor, or homeowner, Folding Doors brings you the best in quality, style, durability and security as well as great value for money with our range of European Laundry Design.
To ensure your door has a neat fit within your frame it is important to accurately measure both the height and width of the opening.
Height
Measure the opening height (+/-1mm) from the underside of the opening to the top of the floor space covering at both sides of the doorway.
If the opening is over 1 metre wide, measure the height at 400mm intervals across the opening.
Use the shortest height measured.
Width
Measure the opening width (+/- 1mm) from side to side at the top of the opening where the track will go.
To ensure a neat fit, it is recommended that the door stops are removed for measuring.
All Doors are made to measure and are supplied with all fixings for installation to a prepared timber opening.
Note: When the door is open it does not protrude outside of the door frame into the room or hallway. The most practical and popular of the door configurations is a single door with a handles at each end (Double End Posts). This allows the door to free wheel across the opening allowing full access to both ends of the laundry.
Our Laundry Doors Range
If you're renovating your existing home or building a new one, looking to fit-out your commercial building or looking for flexible ways to maximise space, European Laundry Doors are definitely first choice.
Folding Doors supplies a wide range of affordable premium quality timber doors to meet your specific needs, with a fantastic selection of finish options.
Wide Choice of Finishes
Folding Doors offers a select range of finishes to choose from for your European Laundry Doors including pastel shades and Raven (Black).
Download our Vinylcloth range of colours here.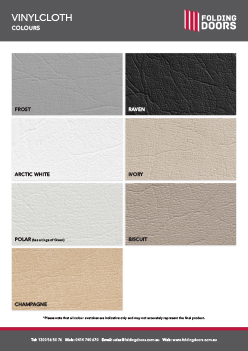 Optional Extras
European Laundry Doors come with all fixings and are an easy DIY install to a timber opening.
Optional Extras include:
Single Doors with Double End Posts (opening both ends)
Strongly Recommended

Alumimium Pelmets
European Laundry Doors are all made to measure.
We manufacture a wide range of quality Folding Doors that can increase space and open up a new layout of possibilities!
Need help to get the correct measurements for your doors?
With a range of Folding Doors to suit any space, simply tell us what you need and we will tell you how.